Perimenopause is the phase that leads to menopause. Women tend to start perimenopause in their early 40s and it can last anywhere between 5 and 10 years. 
Perimenopause has over 34 symptoms ranging from hot flushes, night sweats, to increased anxiety and brain fog. With other life pressures of family, care giving and career these symptoms are often overlooked as being part and parcel of a stressful life.
How Do You Know If You've Started Perimenopause?
The first step is to understand the symptoms of the perimenopause, and our quiz will help with that. The next step is to understand how your hormones fluctuate across your menstrual cycle.
As women go through perimenopause their levels of ovarian response hormones – oestrogen and progesterone – slowly decline, while their levels of the two control hormones – follicle stimulating hormone (FSH) and luteinising hormone (LH) – increase. 
Our Female Hormone Mapping product will map these 4 key hormones across your entire menstrual cycle and will also provide you with our unique FORM score which will tell you how well your ovaries are responding to the two control hormones FSH and LH.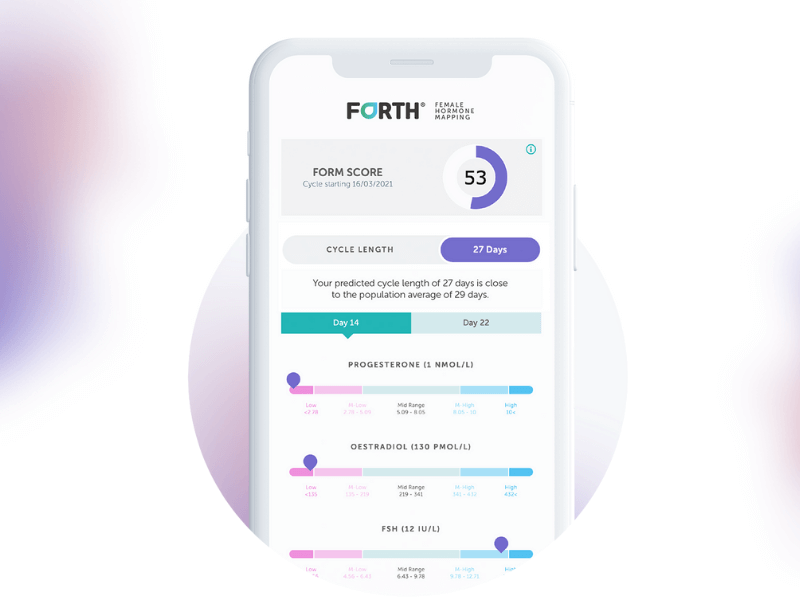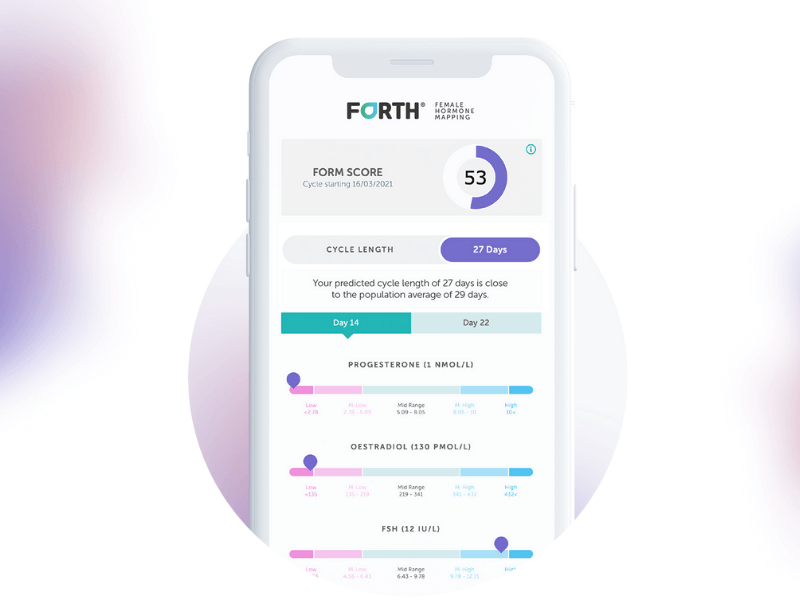 Take The Perimenopause Quiz
Our quiz aims to help women become more aware of the symptoms associated with perimenopause. Complete the quiz below to find out if you could be in perimenopause.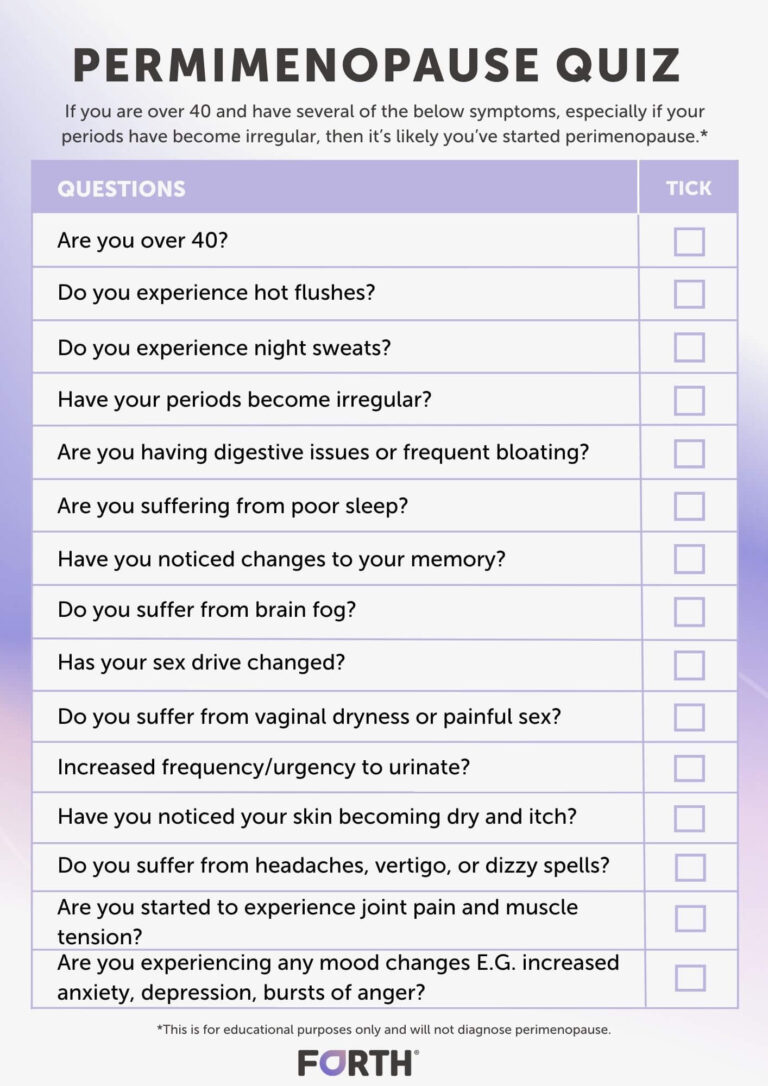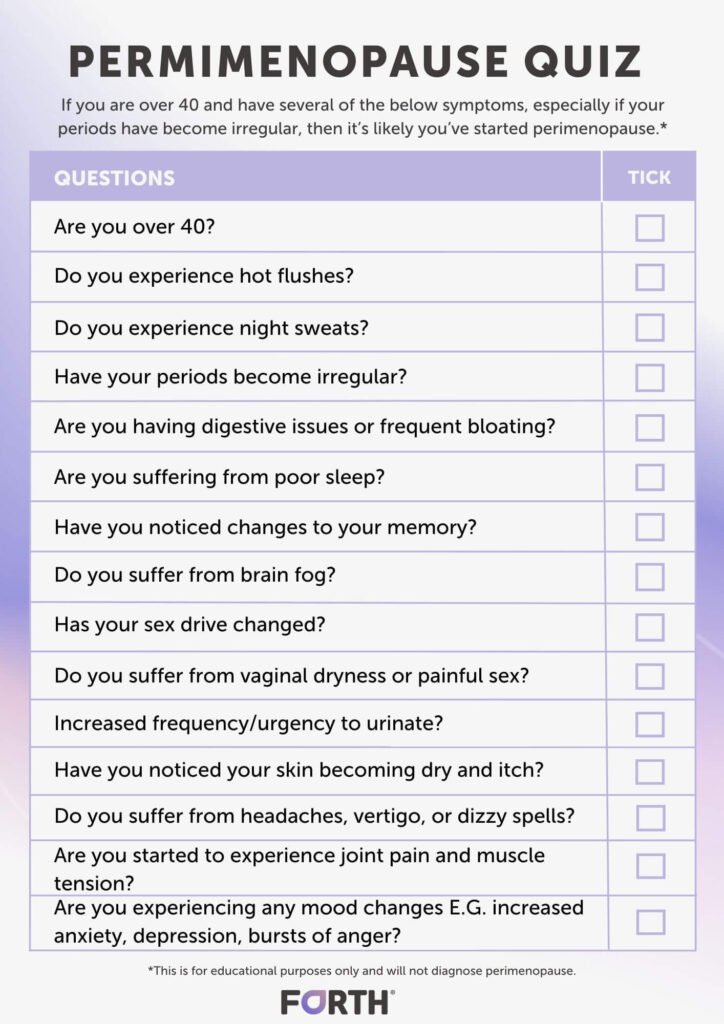 Note: this quiz is for educational purposes only and will not diagnose perimenopause. 


If you are over 40 and have several of the above symptoms, especially if your periods have become irregular, then it's likely you've started perimenopause.
If you are not over 40 but are experiencing some of the above symptoms without any other cause, such as a hysterectomy, then you could be experiencing early onset of perimenopause. However, it would be worth visiting your GP to discuss your symptoms so blood tests can be carried out to rule out other conditions such as thyroid issues.
As each woman is an individual, the age you start perimenopause and reach menopause will be unique to you. 
The best way to confirm perimenopause is by taking our Female Hormone Mapping test alongside our health questionnaire which will help confirm if your symptoms are due to a declining ovarian response.
View a demo of the full report you will receive.
You can also book a separate follow up appointment with Forth's Chief Medical Officer and expert endocrinologist Dr Nicky Keay if you wish to go through your report in more detail. 
Learn more about Female Hormone Mapping.
Was this helpful?
Let us know if you liked the post. That's the only way we can improve.