Hormones play a crucial role in our bodies, so we spoke to Forth's Chief Medical Officer, Dr. Nicky Keay who has extensive clinical and research experience in the fields of endocrinology, to learn more about hormones and hormone imbalance.
What Causes Hormone Imbalance?
Medical conditions that affect the endocrine system can cause a hormone imbalance, but so too can lifestyle.  A hormone imbalance can affect mood, weight, sports performance, and energy levels in addition to fertility.
Functional Hormone Imbalance
Functional hormone imbalance is caused by lifestyles, such as poor nutrition/diet, exercising too much, and not giving your body enough time to recover from strenuous exercise.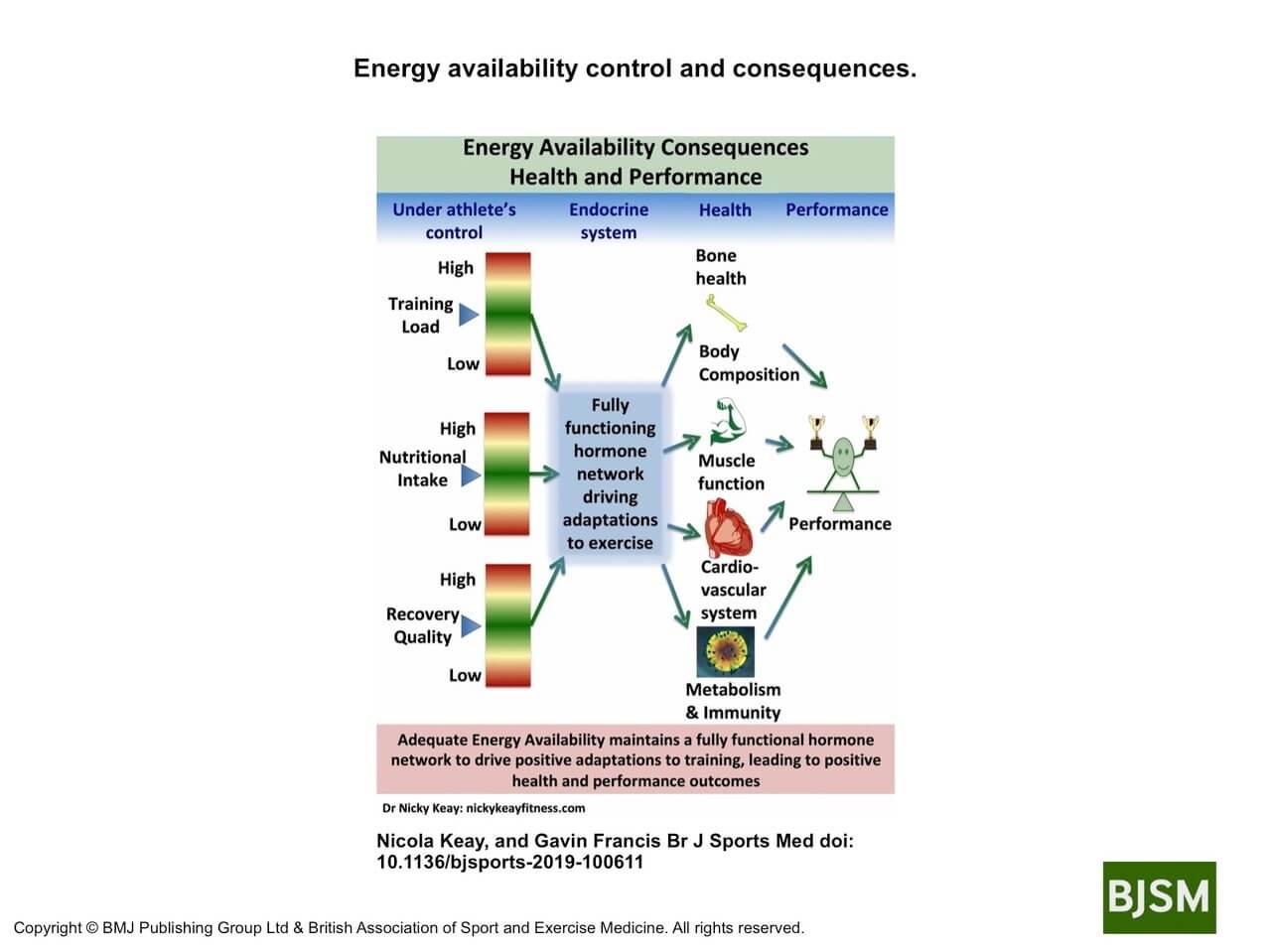 The above chart shows the impact of training load, nutrition and recovery on the endocrine system and therefore your hormones.  Keeping training loads, recovery time and nutrition in balance will help support your endocrine system and in turn bodily functions key to health and sports performance.
As Dr Nicky Keay explains, "Why is having an optimal balance of lifestyle factors of exercise, food, and recovery crucial to health? These are key factors in maintaining healthy hormones.  Hormones are internal chemical messengers that underpin all the crucial life processes that occur in the human body. Imbalances in this hormone networks result in suboptimal health and performance. Monitoring hormones empowers you to focus on aspects of lifestyle that can rebalance hormones to ensure health and performance."
Medical Conditions
Hormone imbalance can also be caused by medical conditions such as
under or overactive thyroid
,
diabetes
, polycystic ovary syndrome (PCOS) and prolactinoma. As well as less common conditions such as Addison's disease and Cushing's syndrome.  Checking your hormone levels will help identify whether a hormone imbalance is being caused by a medical condition or lifestyle factors.
Here at Forth, we are particularly focused on helping you understand your hormones and how changing behaviours within your control such as diet, exercise and rest can help with any functional hormone imbalance.
What Role Do Hormones Play In Our Bodies?
The endocrine system plays a vital role in controlling and regulating many of the body's functions.  It's made up of a network of glands and organs located throughout the body and is responsible for regulating a range of bodily functions through the release of hormones.
Some of these bodily functions include:
Menstrual cycles
Growth and development
Metabolism
Sexual function and reproduction
Body composition
Bone health
Mood and cognitive function
Appetite
Sleep and wake cycles
Response to exercise
Blood sugar control
Some of the hormones produced by the endocrine system include:
Symptoms of Hormone Imbalance
As hormones impact, nearly all areas of the body, symptoms of hormone imbalance can be wide-ranging. In both men and women include:
Reduced libido
Insomnia
Weight gain and/or change in body composition e.g. difficulty in building muscle mass
Response to exercise training and slower recovery times post-exercise
Fatigue
Mood changes such as anxiety, depression, or irritability

Fertility issues
Women may also experience changes to periods e.g. length of cycle, nature of menstrual bleed.
Hormone Imbalance Tests
One way to gain a deeper insight into your hormones is through a finger prick blood test.
Our advanced female hormone blood test, MyFORM™, is unique as it uses artificial intelligence, combined with blood analysis and clinical expertise to give women personalised insights into their hormone network.  It maps a personalised hormone curve for all 4 key female hormones – FSH, LH, Oestrogen and Progesterone – across an entire menstrual cycle. The test will show whether you have a hormone imbalance that may be affecting your health and wellbeing.


Learn more by reading our blog 'What Is MyFORM™?'.
Our male hormone blood test measures testosterone – which is the main male hormone measured in blood and affects multiple functions in the body – along with the hormones that control testosterone production. These are LH and prolactin both of which can reduce the amount of testosterone being produced.
Summary
It's key to understand the importance of hormones for health and performance and that any hormone imbalance will impact both.  A hormone imbalance can be caused by lifestyle or medical conditions.  Finally, understanding your body from the inside will help you make the right changes to achieve your health goals.
Was this helpful?
Let us know if you liked the post. That's the only way we can improve.